*Relocated to Horton Place.
Rolled Ice Cream originated in Thailand and now they've made their way here to our little island nation. JAM does an okay job and take way too long to do it, but their ice cream is well made and, thanks to the process: very smooth.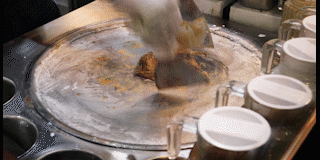 The cream is flattened on a frozen plate and once it reaches the perfect consistency, it's rolled out and then topped with whipped cream or a topping of your choice.
They have a set menu as well as a DIY section where you get to pick and choose your flavours and toppings.
Set Menu
The Pink Sensation (Rs. 500) is a combo of Strawberry Ice Cream, Oreos and Vanilla Milk. I don't know what that description means because the ice cream tasted strongly of faluda and it was topped with a hefty dollop of whipped cream and candy.
The Choco Chip (Rs. 500) comes with coffee-flavoured ice cream, chocolate chips and condensed milk (probably incorporated into the base).
Our Experiments
The combination above (Rs. 500) is a Mocha base incorporated with strawberries, topped with marshmallows and whipped cream. The strawberries went well with the mocha flavoured ice cream, but they're quite stingy with their toppings so there was a scarce amount of marshmallows.
This (Rs. 500) is a combination of soy ice-cream incorporated with Oreos and topped with M&Ms and chocolate sauce. This was really good and the soy flavour goes very well with the Oreos.
The Scene
The ice cream melts super fast, so you'll have to eat it up quick. That being said, the portion sizes are fairly large and more than enough for two people to share. For now, they take way too much time to serve and, in all honestly, nobody should have to wait 45 minutes for ice cream. Just imagine trying to convince a child to wait that long for ice cream. The place just opened and we hope they'll get things up to speed soon.
All in all, it's an okay place to visit if you want to try something new. They have plenty of room for indoor and outdoor seating as well, so if you're going with a group you won't have to stand around awkwardly and wait until seats are free.