Tea: that much-coveted beverage that most of us Sri Lankans can't do without,
whether it's some strong ginger plain tea or the classic milk tea, at least twice a
day. It is also one of those quintessentially British things, along with stiff upper
lips, the Queen, and world domination.
Today, we delve into the complex and interesting history of this beverage, and explore how it came to be one of Sri Lanka's main export crops and one of the most sought-after commodities in the modern world.
Where it all began
According to legend, over 4000 years ago, there lived a Chinese emperor by name of Shen Nung. As his servant boiled water, a few leaves fell in, and the emperor, who was also a herbalist, decided to try the concoction. Thus was the birth of tea, which went on to become the national drink of China in later dynasties, and which, at one point in time, was even used as currency in China. It was, and is, the subject of many books and poetry, and is currently the second most popular drink in the world, after water.
Introduction to Sri Lanka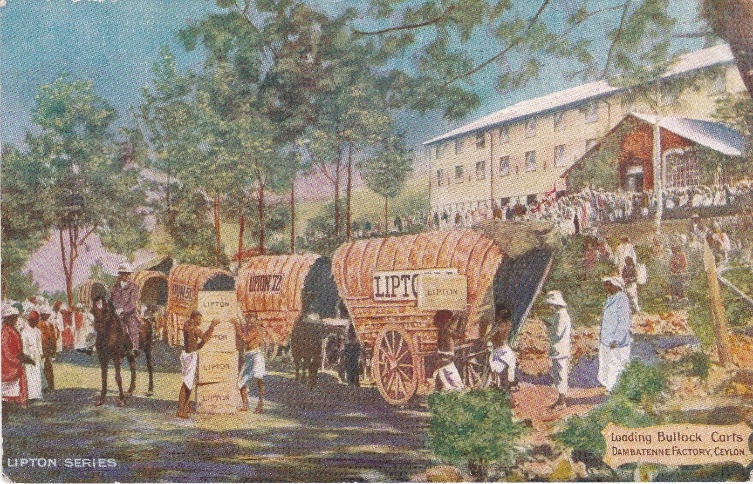 In the early 19th century, thousands of years after the Chinese had discovered tea, whilst the British Empire sought to expand and establish itself as the new world superpower, Sri Lanka (then Ceylon) was known for her cinnamon whose trade had been monopolized by the British. Following an economic regression, and consequent deterioration of cinnamon as an export crop, coffee cultivations began on Ceylonese soil. Although a lucrative enterprise, a fungal disease eventually killed off entire coffee plantations, and it was roughly around this point in time that tea came into the picture.

Pictured above: A stamp that was published to mark 150 years of Ceylon Tea with the image of James Taylor
A young Scotsman by name of James Taylor, bought 19 acres of land in Deltota in the Kandy District, and established Loolkandura estate, the first tea plantation in Sri Lanka, in 1852.
Production Growth and Development
Plantations like Hope, Rookwood and Mooloya were built on the grounds of
abandoned coffee plantations, close to Loolkandura Estate, and soon many more
plantations followed.The rise in tea plantations led to the development of machinery like Samuel Cleland Davidson's Sirocco tea-drier, and John Walker & Co.'s tea-rolling machine.
In 1894, the Ceylon Tea Trader's Association was established, and in 1938, the
Tea Research Insititute in St Coomb's Estate in Talawakele was declared open.
Sri Lanka is currently one of the biggest tea exporters in the world.
Why Ceylon tea?
What is it about Ceylon Tea that makes most of the rest of the world wax lyrical
over it?
There are different types of tea manufactured in our factories; Ceylon black tea,
Ceylon green tea, and Ceylon Silver Tips are three such types, all with different
and unique flavours to their credit. What most of us Sri Lankans consume on a daily basis is actually what is referred to as black tea dust, which is very different from (and far less expensive than) the Earl Grey and such posh types that the British swoon over.
Moreover, the technique of picking tea leaves in Sri Lanka is a unique one, which also renders its unique flavour. The tea leaf is picked by hand, in a harvesting method called two leaves and a bud, by well-practised tea-pluckers labouring in the green estates for many years- and often many generations.
The tea-pluckers, who are almost all women, start work at as young as 12 years old, often following in the footsteps of their mothers and grandmothers who have also spent their whole lives working for their wages every day among the tea trees.
So, the next time you are sipping that perfect cup of kahata, you can ponder on all the stories that have been spun, all the legends that have been passed down, all the books and poems that have been written, all the labour that has gone into the making of the precious commodi-tea you hold in your hands.