By Hashini Pathirana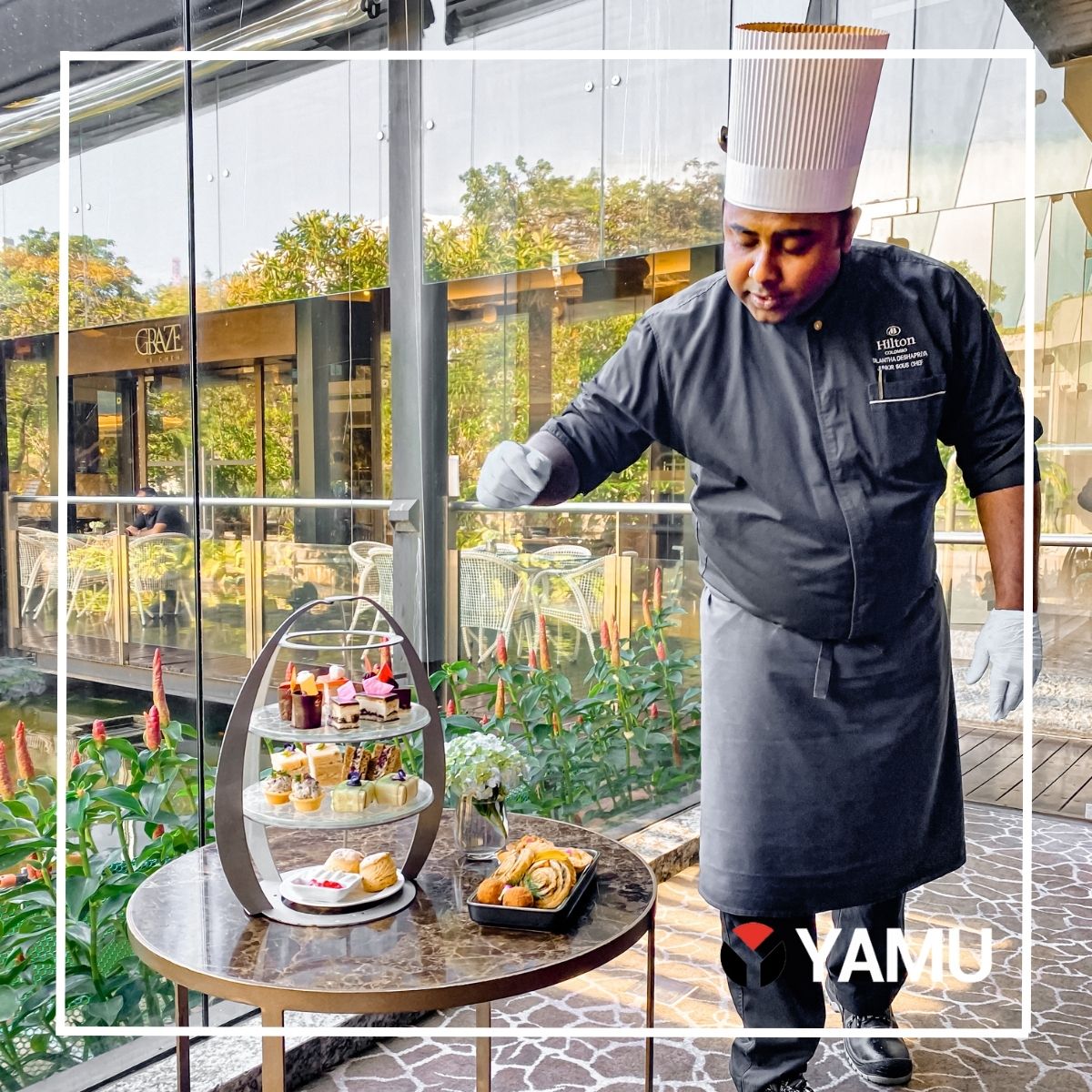 A little chit chat with your besties, while sipping onto an Iced Coffee and taking a bite of your favorite sandwiches, scones, savories and snacks would make the whole experience of High-Tea a fancy delight for one. And Hilton is here to serve you such a delightful experience with their High-Tea Platter Affairs at . Intimate yet Elegant….. Happening every Sunday to Friday from 2.30 pm to 6.00 pm, The High-Tea Platter Affairs at L.A.B by Hilton Colombo are quite the talk of the town today!
L.A.B has introduced three different high-tea platters this season namely:
The Western Affair
The Vegetarian Affair
Island Memories
All three platters consist of a Standing Platter that includes Sweets and Sandwiches along with a separate plating of Savory Treats.
We know all you foodies are very excited to see what we got to say about these three affairs so walk with us down the blog for our take on it:
Western Affair: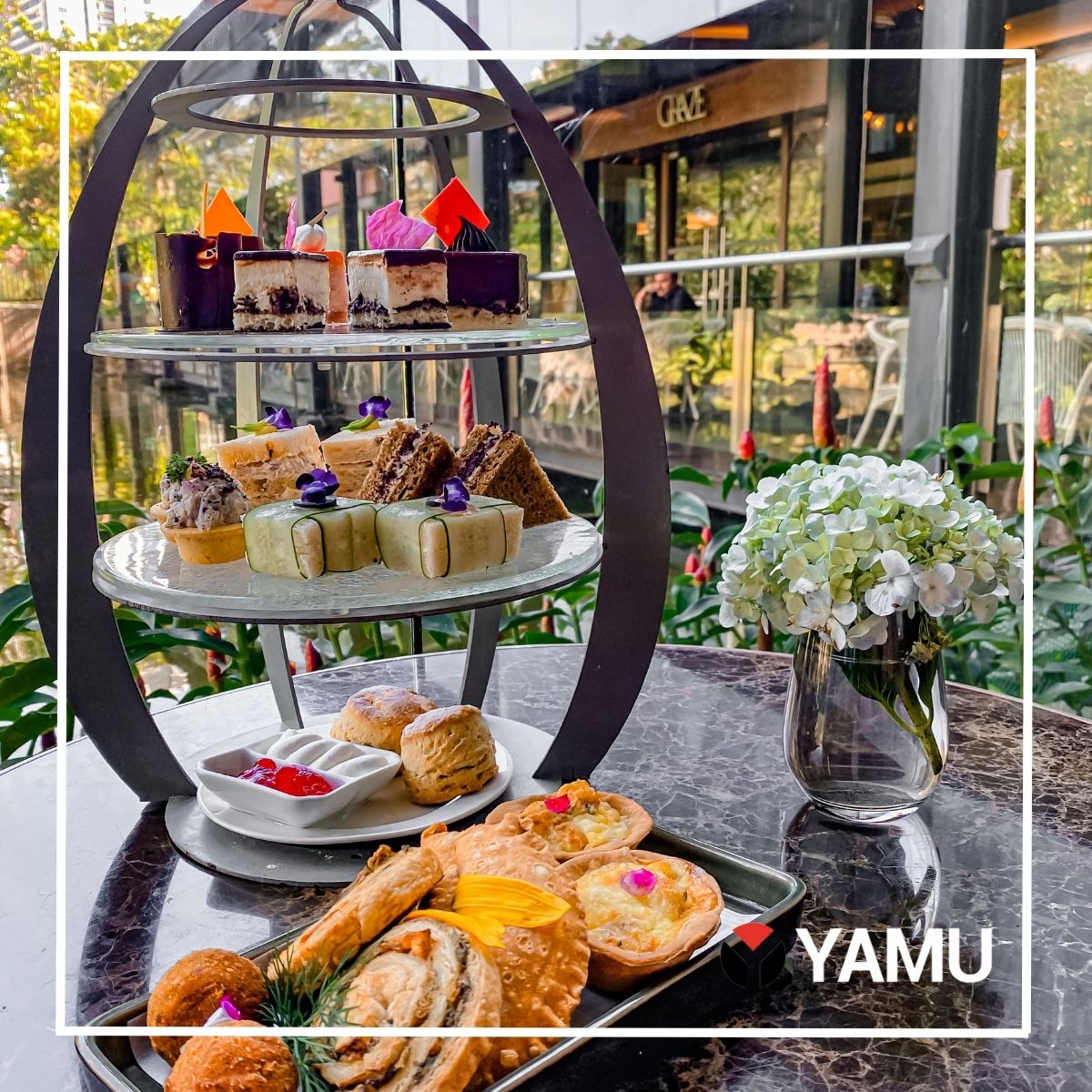 L.A.B's Western High Tea platter is quite a fancy 3 tiered assortment that has Plain and Raisin Scones with Cream and Jam on the lower most tier, Cocktail Shrimp Triangles with Egg & Tabasco, Classic Cucumber sandwich with Dil-Dil Cream Cheese, Tarts with Pickled Onions & Compressed wild guava, Smoked Chicken & Avocado with roasted Guajillo Mayo on the middle tier and all the sweet treats like Strawberry Cheese Souffle with Armagnac Snow, Mini Cardinal slices, Espresso Royal Manjari and Crazy Hazelnut & Cashew crunch on the top most tier.
Along with it served are the Savory Treats such as Sea Prawns in Mac & Cheese balls, Smoked Swordfish & Young Onion Pie with crushed Potato, Chicken & Mushroom Empanada, and also Spinach, Sun-dried Tomato & Feta Puff Pinwheel topped with black olive dust. These are plated separately from the standing platter.
Out of all items on the Standing platter, we absolutely loved the Classic Cucumber Sandwich with Cream cheese, as it brought to us a very refreshing taste of cream cheese and cucumber. The way the sandwiches were wrapped in Cucumber and garnished with Butterfly Pea flowers was stunning to the eyes! The Wahoo Tarts with Pickled Onions & Compressed wild guava were another delight in the palate for its unique ingredients, taste and touch. It is definitely a must try if you are someone who is up for exploring new experiences.
On the side plating, Sea Prawns in Mac & Cheese balls had a taste we never expected and held us quite on a surprise. We loved it but we preferred if they were more crusty and crunchy on the inside as much as they are on the outside. Smoked Swordfish & Young Onion Pie with crushed Potato and Spinach, Sun-dried Tomato & Feta Puff Pinwheel topped with black olive dust were not in our best favor to be honest. The Onion pie consisted of a hint of egg which was not expected as the ingredients did not include eggs at all and therefore left us with an unsatisfied taste. The flavor of spinach in the puff pinwheel was strongly flavorful and for someone who does not want to be reminded of strong flavors of greens, this would not be your favorite indeed. The puff was crusty however the flavor put us off.
From the top most tier of Sweet treats, Crazy Hazelnut & Cashew crunch was what we felt most connected to because we are indeed crazy and the crazy Hazelnut made us even crazier with its sapid flavors. Cashew was definitely the best buddy this crunch could ever ask for, complimenting the hazelnut flavor in its true essence.
Vegetarian Affair: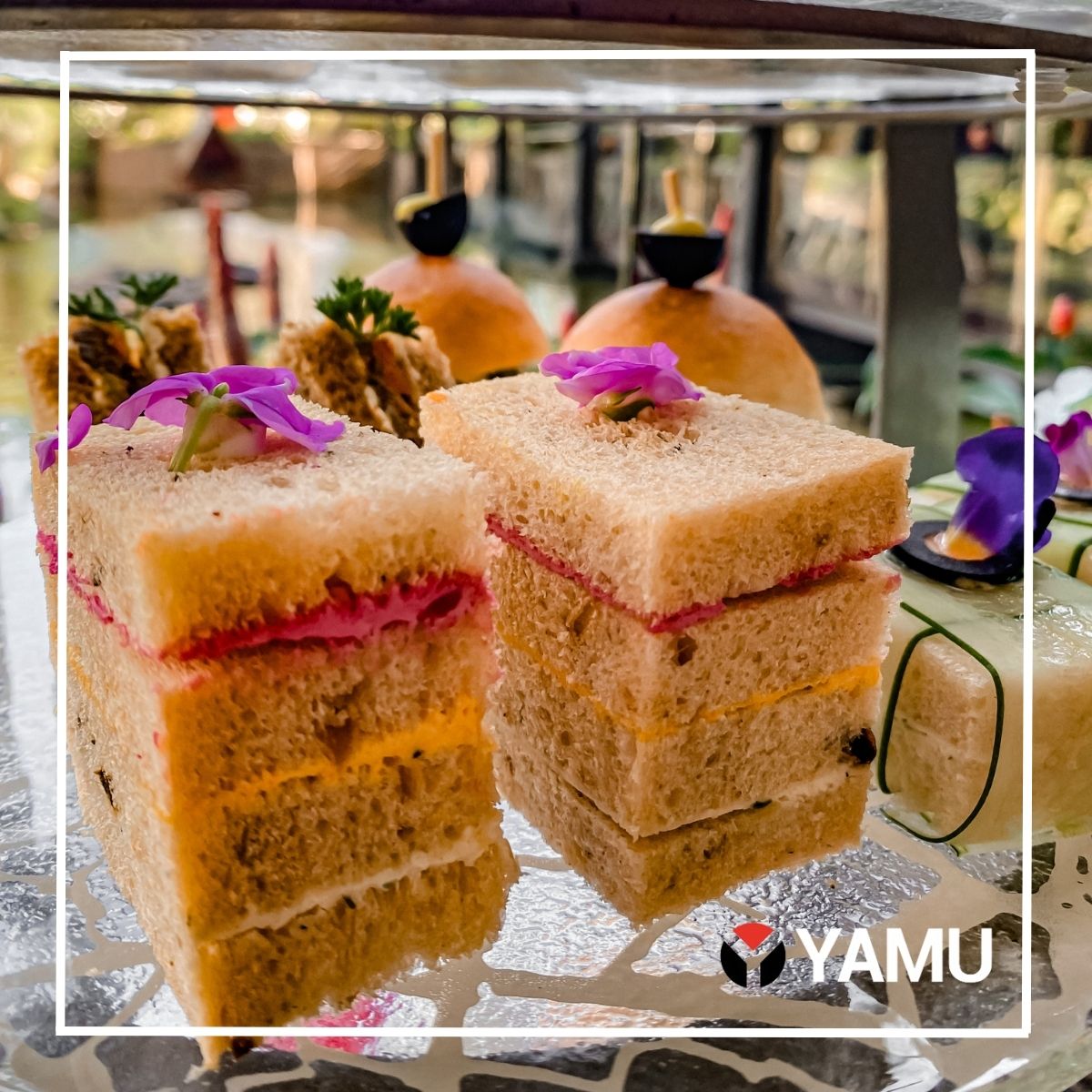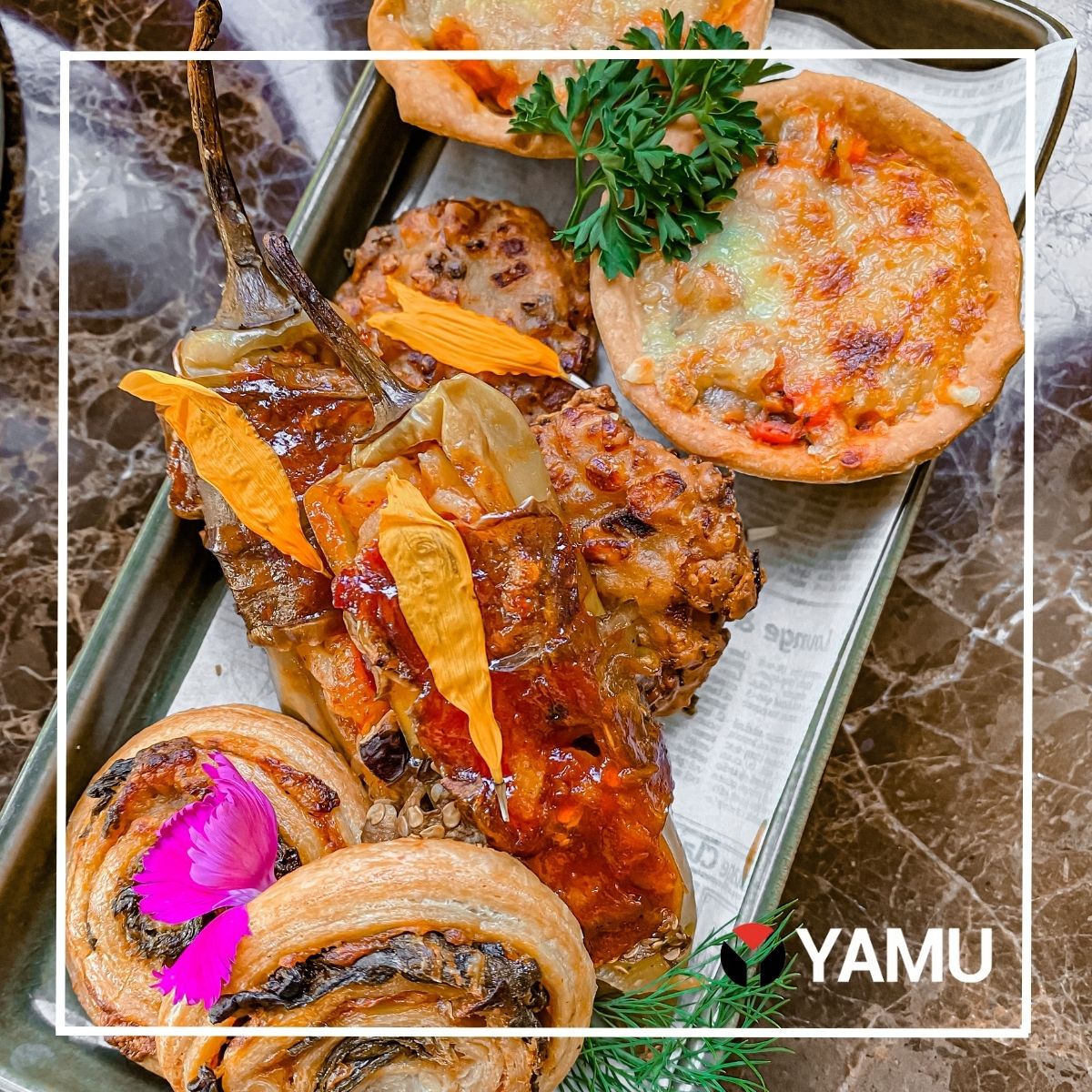 Hilton Colombo is constantly adhering to customer requirements and adapting to timely changes while satisfying as many customer demands as possible. Vegetarian high-tea platter is such an adaptation in catering mainly to the Vegetarian guests looking forward to vegetarian options in a high-tea setting. Nonetheless, this vegetarian platter is said to be more delightful than even non-veggie platters and is liked equally by the veggie crowd as well as the non-veggie crowd too.
This platter too comes with a Standing platter that includes three tiers of Veggie goodness and a Side plating of Savories. Options on the standing platter are Scones, Cream & Jam on the bottom tier once again. On the middle tier we have the Classic Cucumber Sandwich with Dil-Dil Cream Cheese, Rainbow Veggie Sandwich, Roasted Mediterranean vegetables with Roma Tomato Radish, and Go Green Slider. The platter's top most tier yet again was arranged with the sweet treats such as Choco-Orange eggless fudge, Blueberry Panna Cotta, Bittersweet Dark Chocolate Mousse, and Almond Bean Curd. Veggie Savory Treats on the plating include Spinach, Sun-dried Tomato & Feta Puff Pinwheel with black Olive dust, Maize & Fungi Beignet, Courgette Melitzano & WIld Tomato Pie with Persian Feta and the most Unique item we found interesting, Mac n' Cheese Twisties.
Let's talk about the interesting and unique Mac n' Cheese Twisties first of all. As interesting as it could get, this item is basically Mac N'Cheese stuffed inside a Capcicum and could be considered rather a fancier representation of a Stuffed Chilli. Be careful to not bite onto a big portion of this twistie cuz it might leave you to cry your eyes out as the Capcicum is quite spicy on the inside. Tasting the Mac N' Cheese filling inside was not the greatest and honestly led us to disappointment. It was not a flavor we really liked as we expected a better flavor from such an interesting fusion food. It oozed a strong flavor of Sauce that it was topped with and we could barely taste the authentic Mac N'Cheese flavor. Good work on the fusion however we feel that the chefs could do an improvement in the taste of the whole item.
The Maize & Fungi Beignet looked like the Sri Lankan street food "Dhal Wade". However it tasted better than a Dhal Wade and definitely just two of them were not enough to satisfy the palate. Our favorite from this Veggie platter was the Go Green Sliders. Layered with a Salad leaf on the very bottom, a sliced Grilled Tomato on the next layer and topped with Guacamole in between the two buns, this was absolutely creamy and zesty to our palate. The buns were the perfect soft we expected it to be in, and the three layer filling was nothing below best! Hats off to the chefs as it was one of the best fusion items we saw that evening, which everyone absolutely loved.
As for the Sweet treats on the top tier of the stand, the Almond Bean Curd was personally my favorite of all. The bean curd slices were rich in some sort of an Almond syrup, and was rich in Almond flavor. Quite similar to the traditional Sri Lankan dessert, Curd and Treacle, however with a twist of ingredients and flavors. The bean curd slices were very moist to bite on to, so overall, our experience with it was a better one. We also enjoyed the Blueberry Panna Cotta. It was very authentic, and nothing out of the ordinary which was the way we preferred it to be. Basics are sometimes better than the fancier we would say!
Island Memories: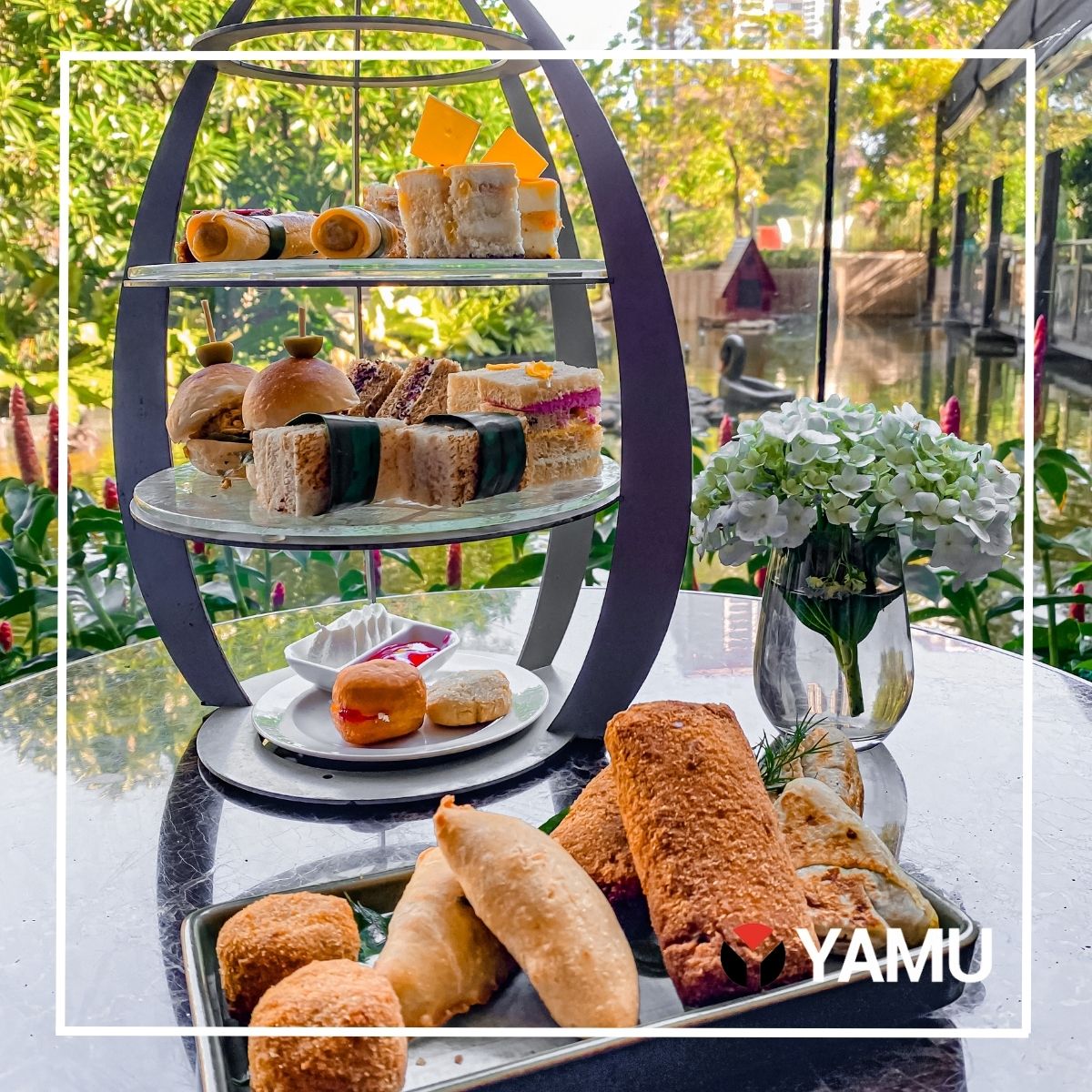 The third and the last platter we experienced, and the platter customized for the true Sri Lankan in all of us; L.A.B by Hilton Colombo introduces Island Memories, the Sri Lankan touch to this high-tea platter affair. The chefs have done an outstanding job in curating this platter to give the best and the most authentic Sri Lankan taste in a high-tea setting.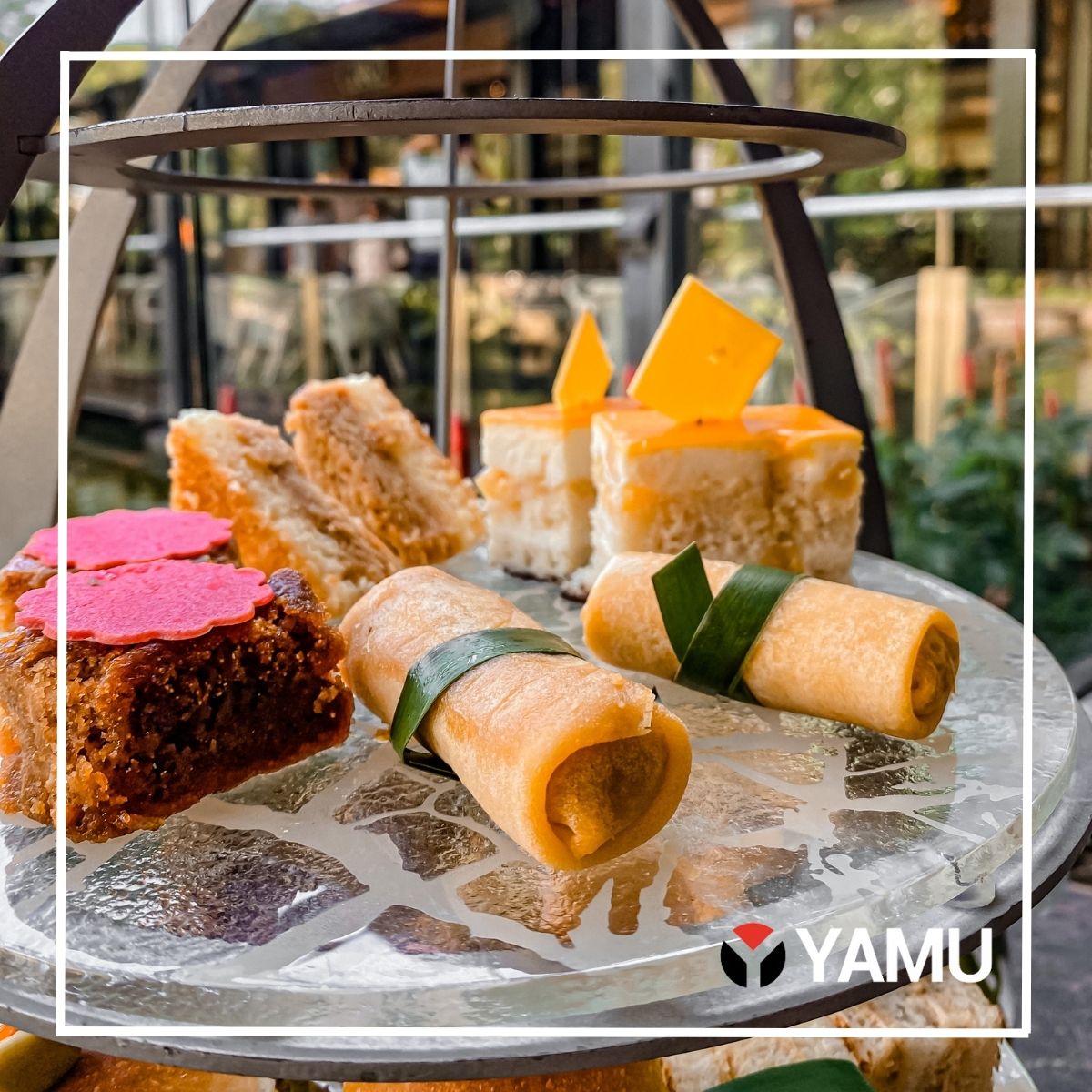 On the stand, we have Mini Gnanakatha with Jam and Doughnuts with Cream and Strawberry Jam on the bottom tier, the Sri Lankan replica of Scones with Cream & Jam. Middle tier consisted of Sandwiches induced with Sri Lankan fillings such as Seeni Sambol and Cheese Sandwiches, Curried Fish Fingers, Egg Sandwiches with Grain Mustard and even Rainbow Vegetable Pinwheels. For the sweets on top, we had the Sri Lankan Coconut & Jaggery Pancakes (Pol Pani Pancake as per Sri Lankans), Mango & Pineapple delight, Nutty Caramel and even Love Cake. Isn't this platter truly Ceylonese? And definitely worth refreshing your island memories!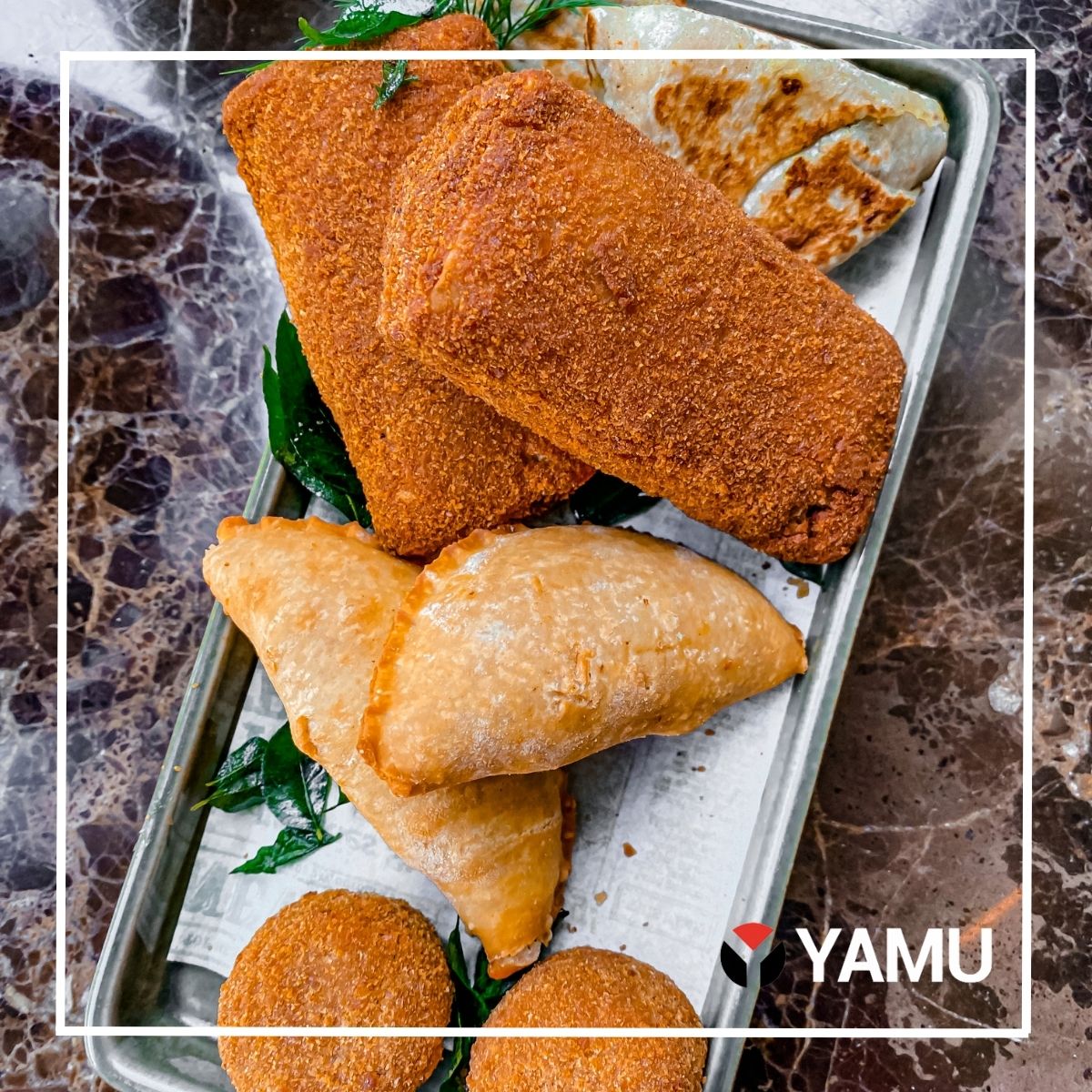 Our go-to sandwich option in this platter was Seeni Sambol & Cheese Sandwiches. Two heavenly savors in my palate, complimenting each other, this Sandwich made me miss my grandma's Special Seeni Sambol which she makes for every Avurudu Season. Curried Fish Fingers were not as successful as the chefs would have wanted them to be, but the Coconut & Jaggery Pancakes did some justice to the unbalanced flavors.
To be honest, we thought that the Pancake batter could have been less thick, making the Pancake wrap less hard to chew on, but the Coconut and Jaggery mixture threw in the right flavors so it was topped off.
Of course this platter too had Savory treats plated next to it with the aromatic and mouth watering Black Mutton Curry rolls, Spicy Tuna cutlets, Chicken & Kochchi Patty, and Vegetable Roti. These items were screaming spicy and savory and we absolutely loved them all. The black mutton curry rolls and Spicy Tuna cutlets were chunky, spicy, very well curry infused and crispy as they should be and shall be two of our best recommendations for all of you to try out! Chicken & Kochchi Patty too was spicy and we would not recommend it for someone who cannot handle spicy food for it was demandingly spicy where the chefs may have used the best grown Kochchi they could find I believe. Vegetable Roti was mediocre, was not too spicy but was not too mild either. A quick dip in tomato sauce would make a bite of the veggie roti taste better.
If you are truly craving that Island taste, you need to give this platter a try as we would highlight this platter as a well balanced Sri Lankan high-tea affair that includes convincing authenticity of the traditional Ceylonese cuisine and is well worth the try! Island Memories would be the ideal high-tea platter for you to try out this Avurudu season as well!
Ambience and Seating: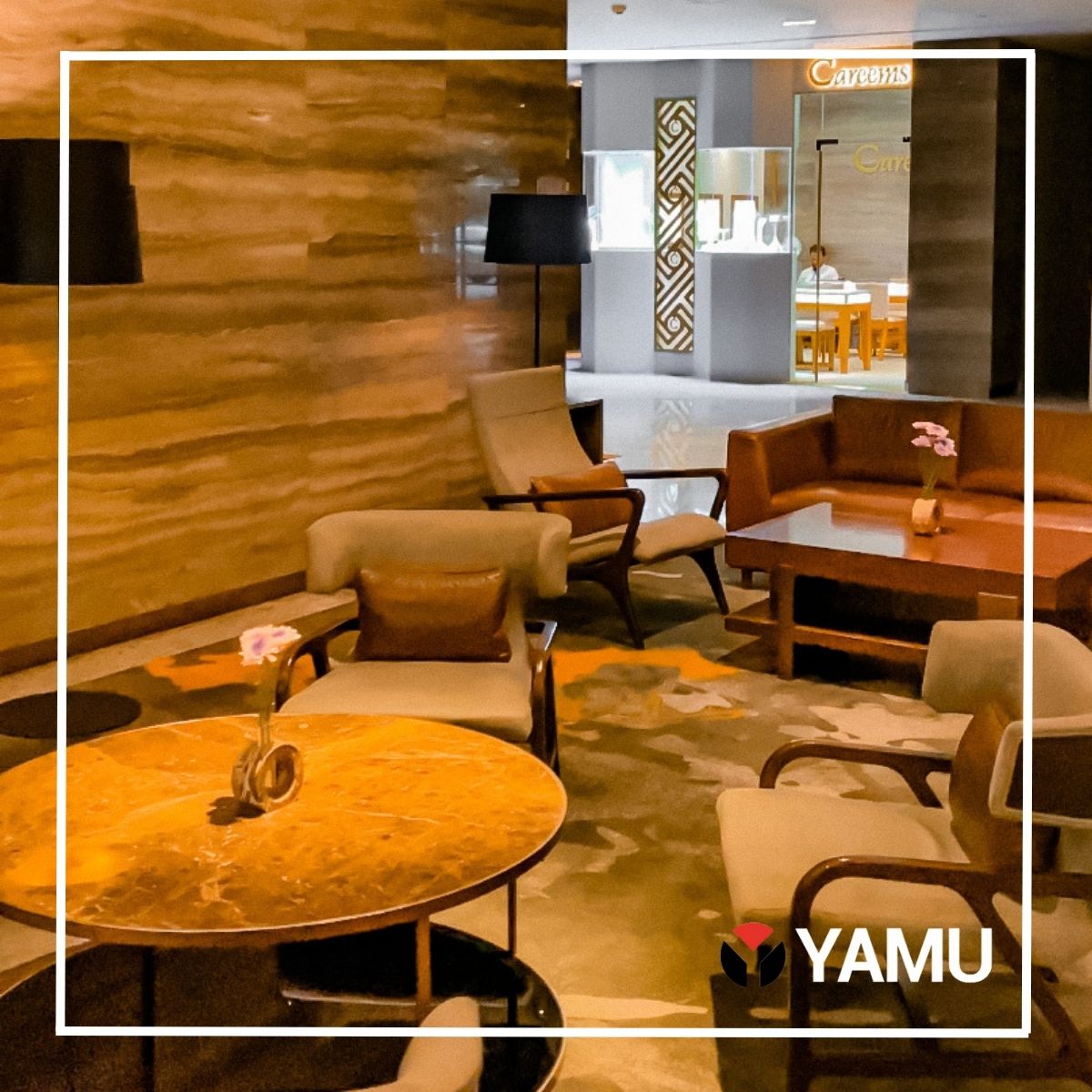 L.A.B by Hilton Colombo is Hilton's Lobby lounge and has been designed in the theme of an urban park, overlooking the lush green garden outside and the well known Lotus Pond adjacent to the garden area.
While there is soulful and soothing lounge music being played in the background, if you are lucky enough, you will get to witness the live piano performances that take place from time to time in Hilton's lobby area.
At L.A.B, you can be seated on the comfortable couches or on the tailored chairs, sipping on to a freshly brewed cup of Coffee or an exotic Cocktail, chit chatting with your besties while digging into a delightful high-tea platter of your choice and enjoy quite a splendid evening overlooking the stunning views outside.
Conclusion:
L.A.B by Hilton Colombo definitely brings out a promising High-Tea Platter Affair and is indeed on top of our list for Must-Try High Teas in Colombo. Hilton Colombo never fails to impress us and we were yet again stunned and surprised with the beautiful presentation of these three high-tea platters. From their names to their fame, the three high-tea platters are quite remarkable and entertaining!
What we appreciated the most was the hospitality, the service and the kind gestures of the staff, who were always accommodating to our requests and making sure we had quality time over high-tea. Out of the three platters, we would recommend Island Memories as it caters a unique experience to guests with a surprising array of Sri Lankan fusion nibbles.
All in all, If you're looking for a refined and indulgent High-Tea experience, L.A.B by Hilton Colombo is definitely worth considering, as it brought to us a delightful assortment of savory and sweet treats that exceeded our expectations and made for a truly memorable experience.
High-Tea Platter for Two
Sunday to Friday
2.30 pm to 6.00 pm
Western Affair priced at : Rs. 6,788 nett
Vegetarian Affair priced at : Rs. 6,088 nett
Island Memories priced at : Rs. 6,788 nett