There are three kinds of people in this world
1. Those who follow wrestling like a religion
2. Those who have no idea what it is (with the exception of John Cena memes)
3. The ones that say "you know it's fake, right?"
If you fall into the latter categories, you might be surprised to know that WWE actually caters to all of your entertainment needs. Also, it's been going on for about 30+ years, generating episodes at least 3 days a week, which means it won't abandon you like your favorite TV series did.
Personally, I feel like WWE helps you on a much deeper level than just providing entertainment.You can learn how to protect yourself from bus creeps or road creeps or creeps in general. You can dodge punches from your amma when you come home late. You also know never to trust internet videos because John Cena will creep up on you #outtanowhere
Either way, read on and find out if WWE has what you're looking for.
Do you thrive on drama? Because drama is the basis of WWE. I'm not even joking. We've had literal family feuds, weddings crashed, people arrested, kidnapped. Think of the most ridiculous thing to happen and the likelihood that it actually happened is as high as WWE guest star Wiz Khalifa.
More into comedy? Apart from our resident part-time stand up comedians like Dolph Ziggler and Jimmy Uso, we have some hilarious superstars on board.
We sometimes have cute couples, if you're into the romcom kind of thing.
We have a handful of self-proclaimed demons if any of the Supernatural fans are interested.
If you're one to instagram inspirational quotes or just quotes in general you should probably start watching wrestling because: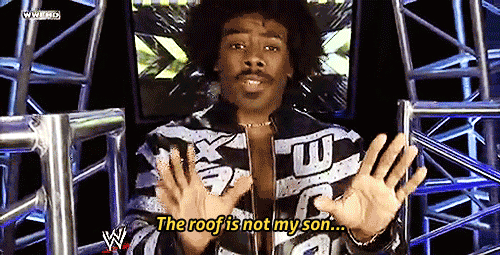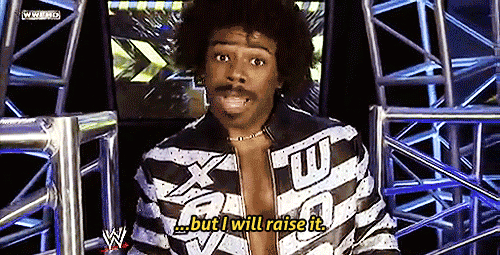 Images obtained from tumblr.com
For the Marvel and DC fans – Hugh Jackman (Wolverine), Stephen Amell (Arrow) and Joe Manganiello (Deathstroke) have all stepped into the ring. Amell even had a match at Summerslam 2015. Not to mention six-time World Champion Batista plays Drax the Destroyer in Marvel's Guardians of the Galaxy.
We also have a Swiss Superman who goes by the name Cesaro.
We gave the world Dwayne the Rock Johnson.
We're progressive. WWE went from using women as eye-candy and completely degrading them to creating a women's revolution. They're given more screen time and better storylines. In 2015 Sasha Banks and Bayley made history by being the first women to take part in a 30 minute Iron Man match.
You'd rather watch Keeping Up With The Kardashians? We have our own reality TV show starring Brie Bella, Daniel Bryan, longest reigning Diva's Champion Nikki Bella, and internet meme sensation John Cena.
Want something to sob your eyes to? We don't always have tear shedding moments, but when we do, it hits you right in the feels.
This is not Interstellar, but we do have some gravity defying moments.

If you're into extreme sports, emphasis on extreme, know that WWE Superstars jump from tables, ladders, cars, and whatever else they can get their hands on. And that's pretty extreme.
We make fun of Donald Trump too.
So there you have it. We have a bit of everything and then some. To those who are willing to give WWE a chance- thanks, friend. I've included the times and where you can watch it below. To those who still don't understand, that's okay. Maybe WWE isn't meant for you. If you're willing to learn you can watch Wrestling Isn't Wrestling, which is a somewhat-mostly-accurate educational parody film.
Where to watch WWE in Sri Lanka
It's usually broadcasted on Ten 1 and Ten 1 HD. The show times differ depending on which show is being aired and monthly specials. But the schedule is generally:
Monday – Pay-Per-Views (Special Events)
Tuesday (live) – WWE Raw – 5.00 am
Wednesday (live) – WWE Smackdown – 5.30 am
Thursday (repeats) – WWE Smackdown – 4.00 pm / WWE Raw – 6.00 pm
Friday – WWE Main Event 6.00 pm
Saturday – WWE NXT – 6.30 pm
Or you can sneakily watch it online.